These posts truly are so much fun for me to put together! Not only do I get to share my clients and designs with you, but I hope these can also serve as inspiration for your own businesses! And as an added bonus, I hope these launch posts can serve to give you a better look at the ins and outs of working with a professional graphic designer, and how a holistic strategy-based brand design can transform your business.
With all of that being said, let's jump in! Today I'm sharing the branding for Radian Skincare Company.
*As a side note, this brand is a personal project. Sometimes I get a vision in my head for a company that I personally would love to work with (and buy from!) and so I bring it to life.

Brand Strategy
Radian Skincare Company is a concept design for a holistic, cruelty-free skincare line focused on the minimal basics for every woman.
Normally I start the design process with a detailed questionnaire for my client. This let's us collaboratively get into the nitty gritty of their business. Breaking down everything from the ideal client to the long-term goals. Basically, the who, what & why of the business. It's important to clarify those things before designing, so that the brand I create is best aligned with the business on a deep, holistic level.
Even when I'm working on a personal project, I like to spend some time strategizing and creating a real story behind the brand. This lets me design something that would still work in real life, and as always, is more than just "pretty." It's impactful.
I created Radian on the basis that there are so many amazing natural & cruelty free skincare brands on the market. But they all look very similar. Calm, earthy, minimal branding. I wanted this brand to appeal to the woman who wants handcrafted, clean products, but also isn't afraid to make a statement and be bold. With that in mind, I also focused on:
— Strategically craft a brand that reflects the nature-inspired ingredients in a new way
— Attract customers who love bold design and moody graphics
— Clearly highlight the many positive aspects of the brand through the packaging & collateral (ie. cruelty free, natural, organic ingredients, etc.)
With that, here is the moodboard I put together to guide the designs.

Brand Design
Once I nailed down a direction & tentative color palette it was time to move into designing!
The font in the logo and the tagline were the main design elements that I played with. I knew that using a bold and modern serif font would give me the feeling that I was going for. I manipulated the font to create something custom for the word "Radian."
I paired that with a cleaner font as well as a fun typewriter-inspired font for the "cruelty free" mark. These three work really well together to give a bold look that isn't overwhelming to the customer. It's still modern and clean.
I also played around with a lot of colors for the palette. And actually started off with a bright blue color as as the primary logo. But eventually I decided that a bold black & white palette (with small pops of neutrals and dusty rose/lavender) would better represent the brand story that I wanted to tell. And I think that translated really well in the collateral you'll see below!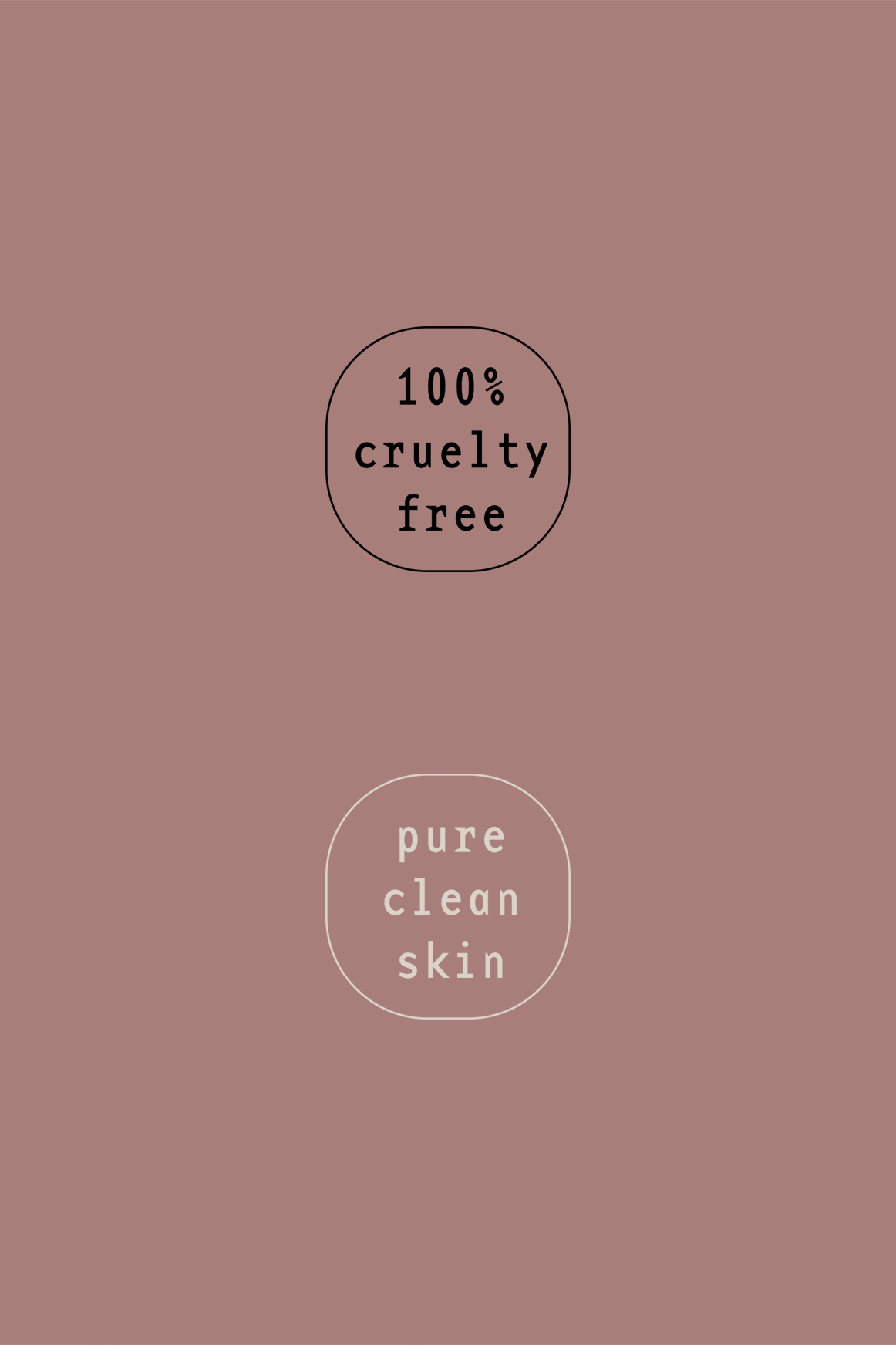 Collateral Pieces
Finally, I moved onto designing collateral. This was the most fun part of the project! With skincare there is so much packaging and collateral to explore. I designed quite a few elements to showcase how a holistic brand can extend to every aspect of the business.
I designed a few things: boxes for a few different products, a pump bottle, business cards and coasters / stickers for the packaging and mailing. I hand drew a few different patterns to use throughout the packaging to compliment the brand design. Both are inspired by nature and some of the shapes you would find in the natural ingredients within Radian Skincare products. They're subtle, and slightly imperfect, which gives the brand that detailed feeling.
These patterns would also be great to use on Radian's website as well as any other print or collateral pieces that the brand might need in the future.
Paired with bold black & white imagery, everything comes together to tell a really strong, expressive visual story.

What do you think of how this brand turned out? If you saw it on the shelf at your local beauty store, would it catch your attention?

---
---