*Note: As of Aug. 2019, Moondust & Me has been updated to Moondust Our Mother. Full rebrand coming soon!

Today I'm so excited to share a new brand design launch with you! Moondust & Me is a sustainable, fine jewelry brand based in Southern California. Founded by a husband & wife team, they believe in the healing and affirmative power of personal talismans (in the form of jewelry) that can align with your best self. 


In terms of alignment, working with Jas and Alex has been the best experience. We hold a lot of the same values in our businesses: sustainability, creating community, aligning with yourself, and giving back through business. 

I was honored that they wanted to partner with me to bring their ideas to life through a holistic brand design. Let's jump in and I'll share the process!


Brand Strategy

One of the core statements that we kept coming back to was, "Handmade healing talismans from metal and moon, to protect & inspire a higher and more whole life."

Alex & Jas wanted a brand that reflected the intentional lifestyle of their ideal customers. Something minimal but slightly bohemian. A few key words for the brand were: sacred, inclusive, clean. We outlined a few goals to keep in mind during the design process:
Feature the ethical/sustainable aspect of the brand without feeling to earthy or crafty.
Attract a community of women inspired to live their highest life. People over profits, always.
Highlight the handcrafted details and moon-inspired origin of the brand and pieces themselves.

With that we put together a moodboard, color palette & brand strategy to guide the designs.

Brand Design

Once we nailed down a direction & tentative color palette (earthy neutrals, astrological inspired illustrations, modern sans-serif fonts) it was time to move into designing! 

After lots of experimenting, I landed on this idea below. The clean font paired with the slightly messy tagline. It has a slight bohemian feel, while still looking sophisticated. It 100% fit the brand's ethos and reflected the core values as sacred, sustainable, and connected.. From there we build out a few variations with the tagline and color palette.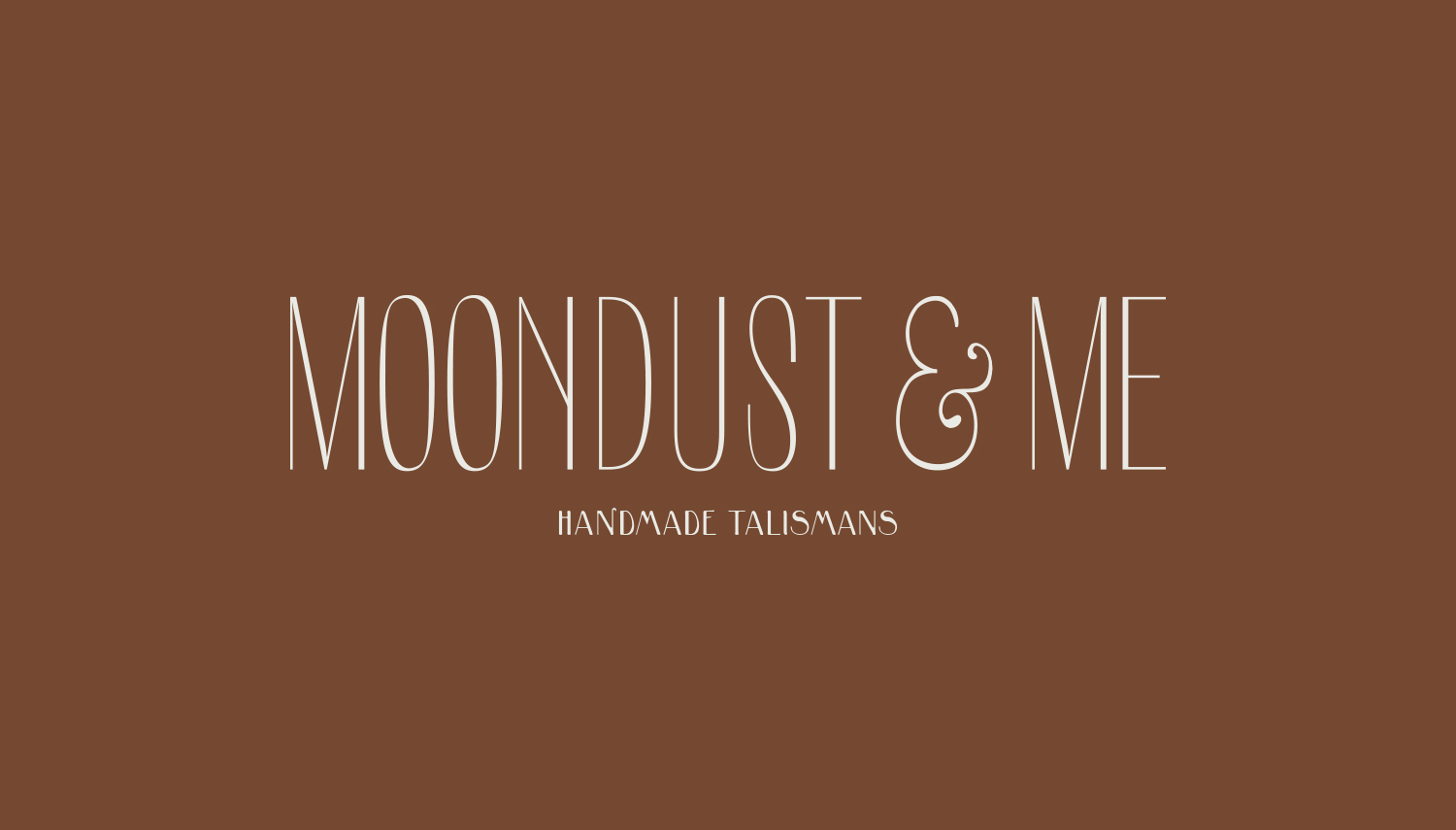 Collateral Pieces

Designing collateral is always the cherry on top of the cake. To have a truly holistic brand, every touch point has to be cohesive and meaningful. Since Moondust & Me is a product-based brand, we needed to ensure that anytime a customer ordered, their package was a beautiful extension of the brand we were creating.

I designed a few things: packaging for the jewelry pieces, informational insert cards, stamps and business cards. You can see a few of those below.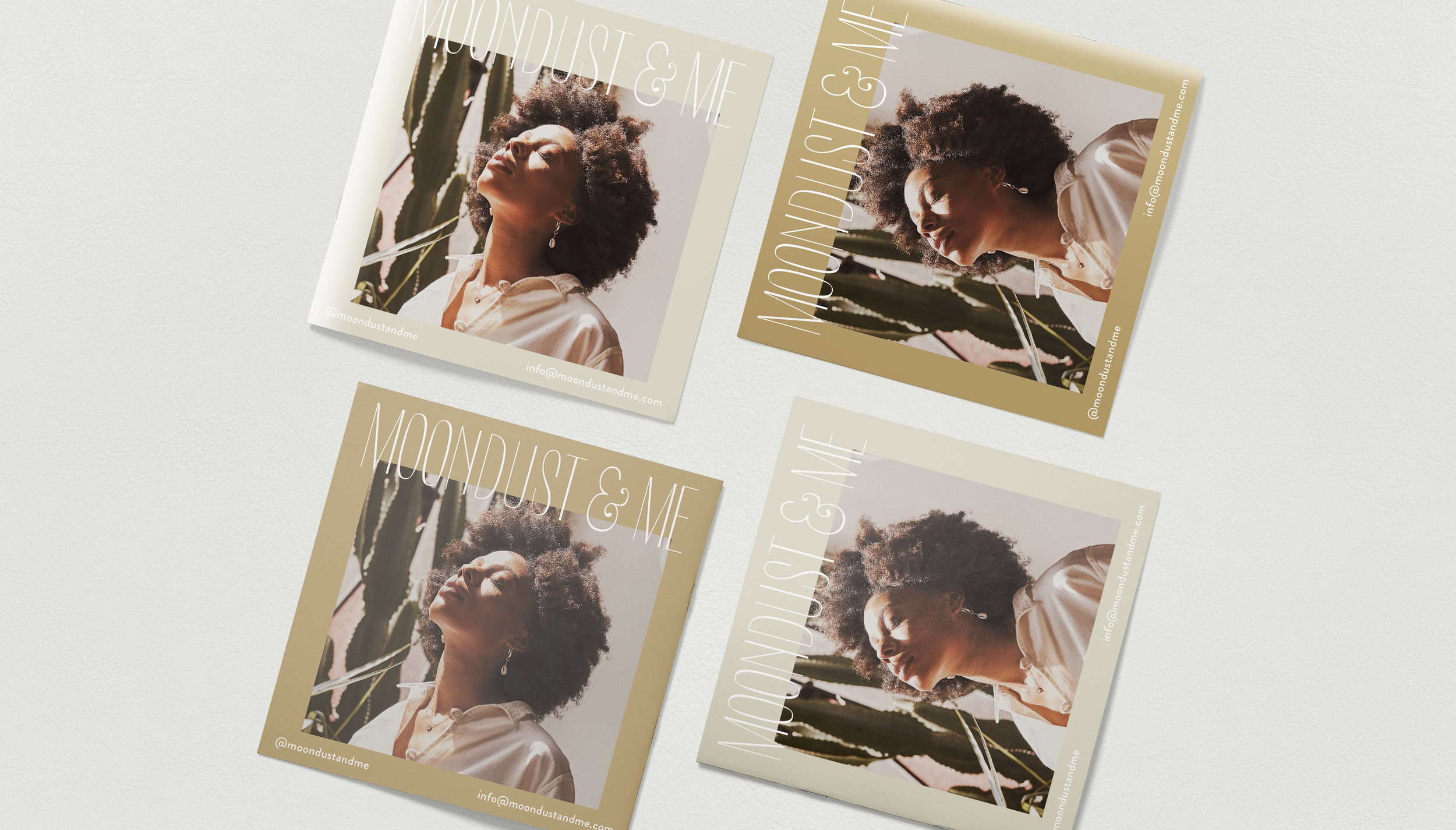 I always say this with my branding projects, but I love how everything came together. It's so inspiring to work with creatives & entrepreneurs who are building sustainable, intentional brands. I love knowing that through design, I can help a business grow that I truly believe in and want to support. You can follow Moondust & Me on Instagram for now & keep an eye out for their official website launch soon. 

---

To get inspired by more recent projects, head over to my portfolio page.

Learn more about my Holistic Brand Design Services here or get in touch to discuss your project!