The Instagram algorithm. It's always changing, and as business owners, we have to stay on top of the ball with social media. It can feel overwhelming to know how to continue to reach and connect with your audience if they aren't seeing your photos!
That's where IG Stories comes in. As I know personally (and many of my fellow business owners agree) Stories are a favorite way to connect and show a more real, BTS, authentic side to business. It's also a great place to promote your brand, content, products and services. Done the right way, IG stories can help you further connect and build a strong relationship with your social media followers.
If you've been wanting to step up you Stories game lately but aren't sure how, today's video is for you. I break down some of my favorite tricks and tips that I use for not only my own business, but my clients' businesses.
In today's video, I'm sharing my top 5 tips for designing Instagram Stories graphics that connect and convert your audience. Scroll down to watch it!
---
---
PS — This video originally posted on my YouTube channel. Make sure to head over there and subscribe to see all of my videos (including some I don't post on the blog) right when they're live!
In the video I talked through my top 5 design tips for how to design Instagram Stories graphics that convert and connect. Each is simple on their own, but put together, you'll have a solid strategy when it comes time to plan or create content for your social media platform. I go into depth in the video, but here's a short breakdown:
01. USE QUALITY PHOTOS
IG Stories is definitely more raw, laid back and unrefined compared to your feed. But that doesn't mean you should use bad quality photos. Take photo and video in the iPhone photos app, not Instagram. Then upload it to your Story. People like high-quality content!
02. USE COLORS & FONTS THAT MATCH YOUR BRAND
If you've been around Reux Design Co. at all, you know I always preach using consistent colors and fonts. It's one of the TOP ways to build brand recognizability and consistency for potential clients/customers. Edit your stories outside of IG to keep the branding consistent!
Related Post: How to Create a Color Palette for your Brand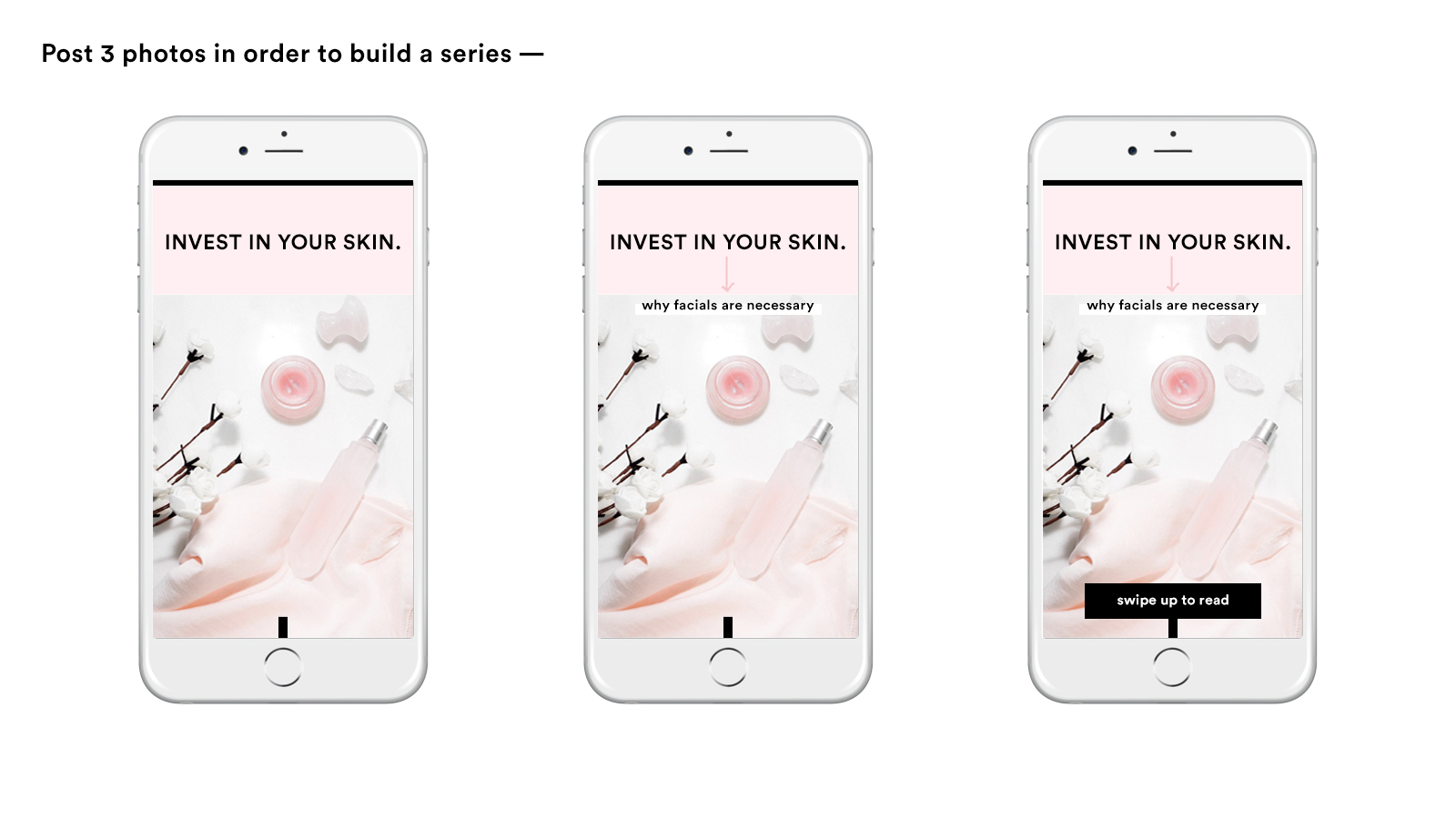 03. CREATE A SERIES
Series can be a really fun way to build engagement and anticipation in your stories. Basically, you'll create multiple graphics that build on each other, each one adding more info or content (see above). As followers are clicking through, they get to watch your graphic change and grow, which will make them stick around longer / remember your content more easily!
---
---
04. SIMPLIFY
Keep it simple, stupid. IG stories isn't the time or place to rant for 30 minutes, or add paragraphs of information. Keep each graphic to one main point, photo, phrase or idea. People are clicking through fast, you need something simple to catch their attention.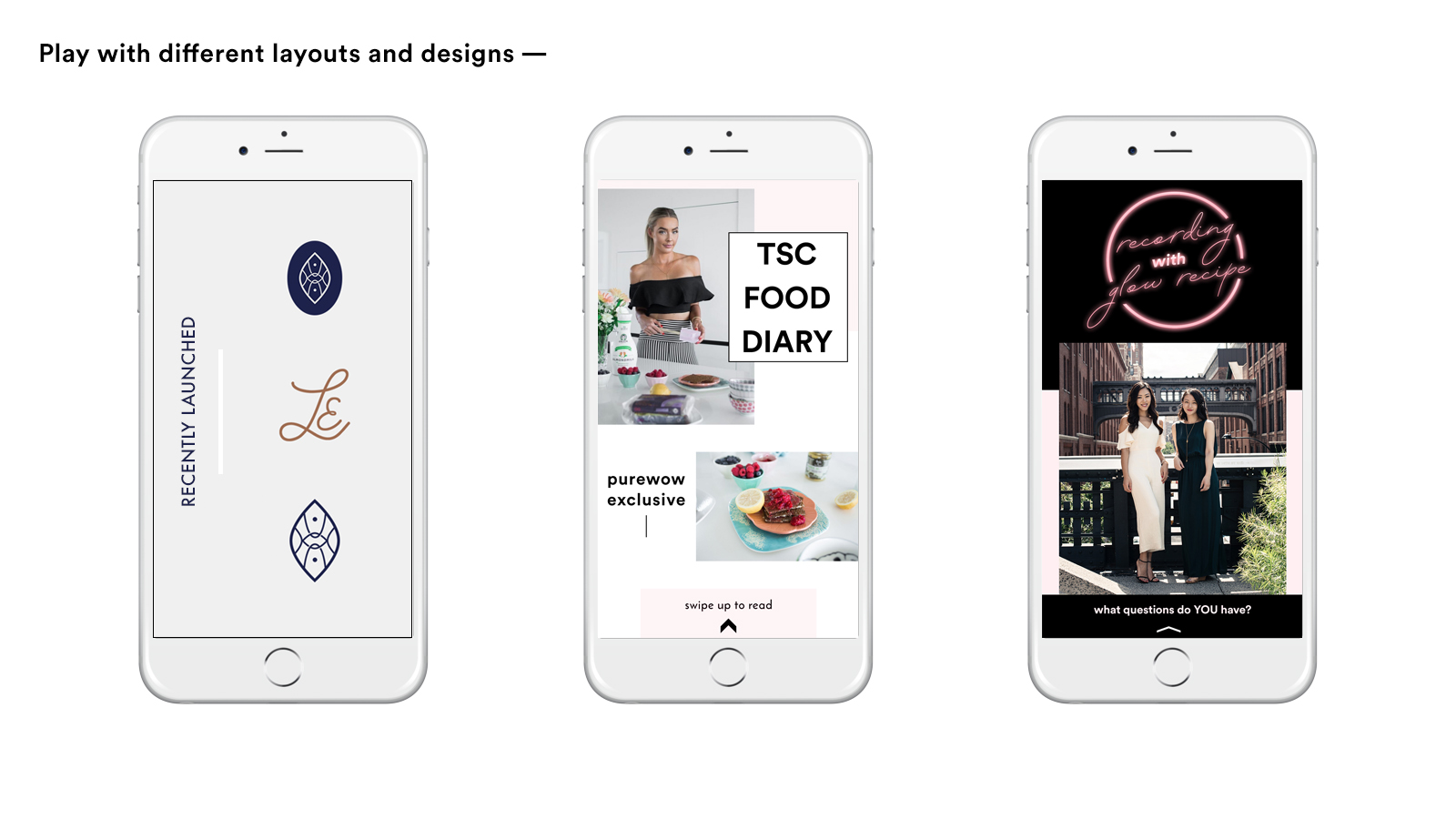 05. PLAY WITH LAYOUT
There's so much room for play and experimentation on Stories. Don't just stick to a vertical photo or layout. See some examples that I've designed for clients and myself above. None of them are overly complex but each is different enough to catch the viewers attention and make them more likely to connect with the content. (Which is the goal here!)
---
Those are my top 5 Instagram Stories design tips. Make sure to download the free templates if you haven't already to get started building branded graphics for your business.
Do you have any other social media tips? How are you using Instagram in your business?
---