One of the most frequent questions I get asked by potential clients (and friends & family) is how my design process works. I've talked about it before in other posts but today I want to dive deep into the ins and outs of how I work collaboratively with clients to help them build sustainable, holistic lifestyle brands.

My process is quite different than the industry standard for a few reasons.
It's only 3 weeks from start to finish, as opposed to the general 8-12 weeks
I present 1 full branding solution, instead of 2-5 logo designs.
It's holistic. I never design JUST a logo, always a full brand including 4 collateral pieces!

It's a process that has evolved and changed with my business, and I'm sure it will continue to grow as I work on more projects and hone in even more on my ideal client. But here's a behind the scenes look at what it is today.



Inquiry & Onboarding:

A potential client inquires about working with me. I have a contact form on my website that gives me a good baseline of info to understand their project. I'll often ask a few more questions to get to know their goals + needs better. Then we'll schedule a free 30 minute consultation call where we can chat, talk about the process, they can ask any questions. This also helps to ensure we generally click.

Once they decide to sign on, I send my welcome email, invoice and contact. It outlines everything they need to do to secure their spot in my schedule. Once the contract gets signed and the deposit is paid, they officially have a start date!


Client Questionnaire & Setup:

Next up is the homework and project setup. I use a few different tools throughout the project to make it smoothest process possible for myself and my clients. Google Drive for the client questionnaire, copy, branding PDFs and sharing Final Files. Asana for a project homebase, including the project schedule, deadlines, to-do lists and feedback communication.

Before our start date, I set all of this up and share it with the client. Then, they have a Client Branding Questionnaire that has to be completed before the start date, which digs into the project, their goals, ideal client info, their inspiration, etc.


Brand Strategy & Moodboard:

The first of a three part process is the brand strategy. Using the Client Questionnaire as a jumping off point, I'll start doing industry research, gather inspiration, audit their existing brand (if they have one) and compile it all into a brand strategy presentation. This directs our whole project and contains information, key phrases, and visual direction. This helps us build a holistic brand that is rooted in strategy and not just a "pretty facade."

The moodboard is also a part of the Brand Strategy. This is where I'll pull together a visual direction for the typography, colors, mood and elements used in the brand. These are the visual representation of the key words and phrases that we want the branding to embody. We aren't 100% locked into these, as things are often edited as I design, but it gives us an overall visual direction to ground the design process.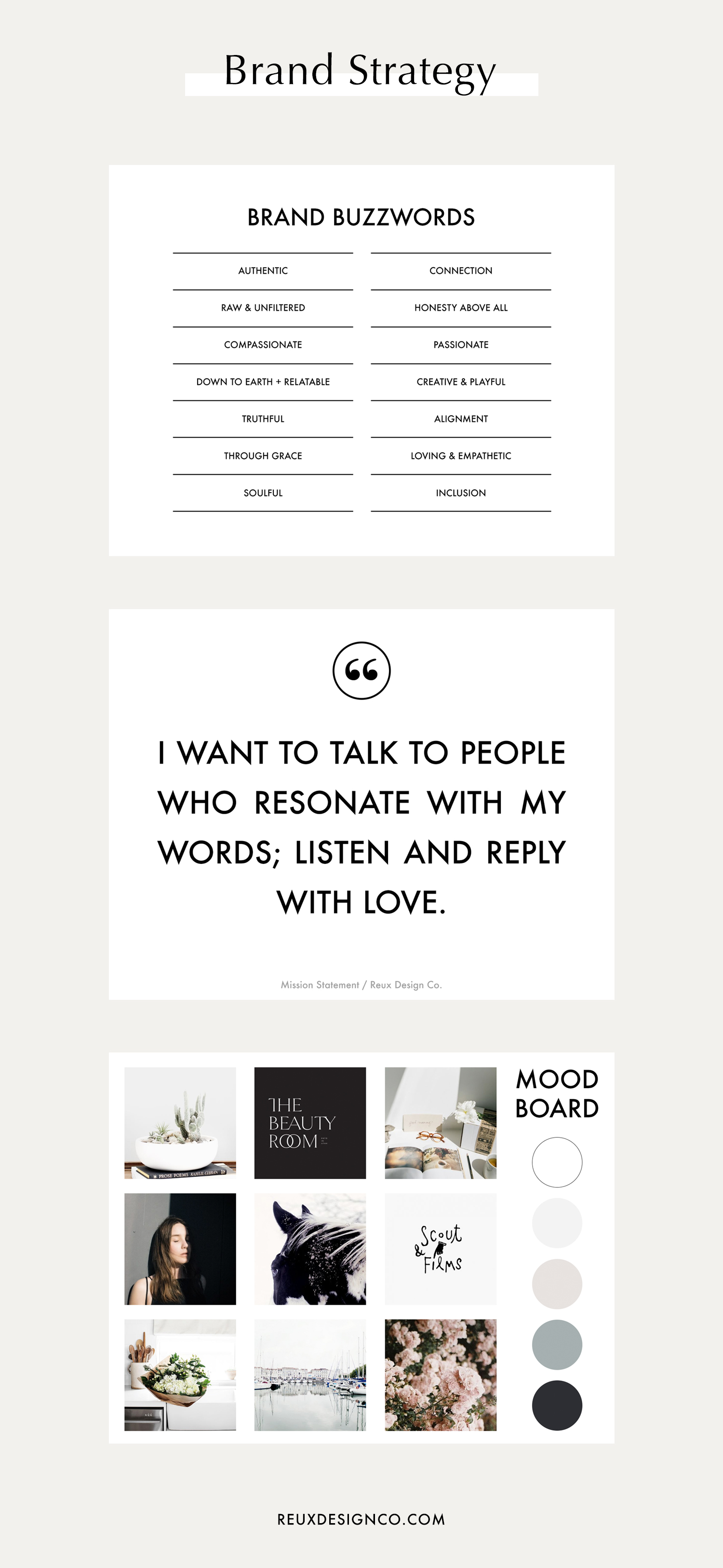 Logo Concept:

Once the strategy has been approved, we move on to the brand design! This is the longest portion of the 3 weeks, rightfully so. Based on the moodboard, I'll start sketching and designing logo concepts. I will spend a few days working through a handful of ideas, then refining 1-3 directions. Generally I will only present 1 to the client, once I've worked through everything and decided which I believe will be the best, most sustainable solution for their brand.

From there, we do 2 rounds of refining, as needed. Most of the time, my clients will love the concept and we work collaboratively to edit and refine it here and there to make it the best possible design. During this time, I always present the full branding, including mockups of business cards, social media banners, etc. Rather than just seeing the logo on a white background, it gives the clients a better understanding of what the full brand can look like once it's come to life.

During this stage, we also finalize submarks, icons, colors, fonts and any patterns for the branding.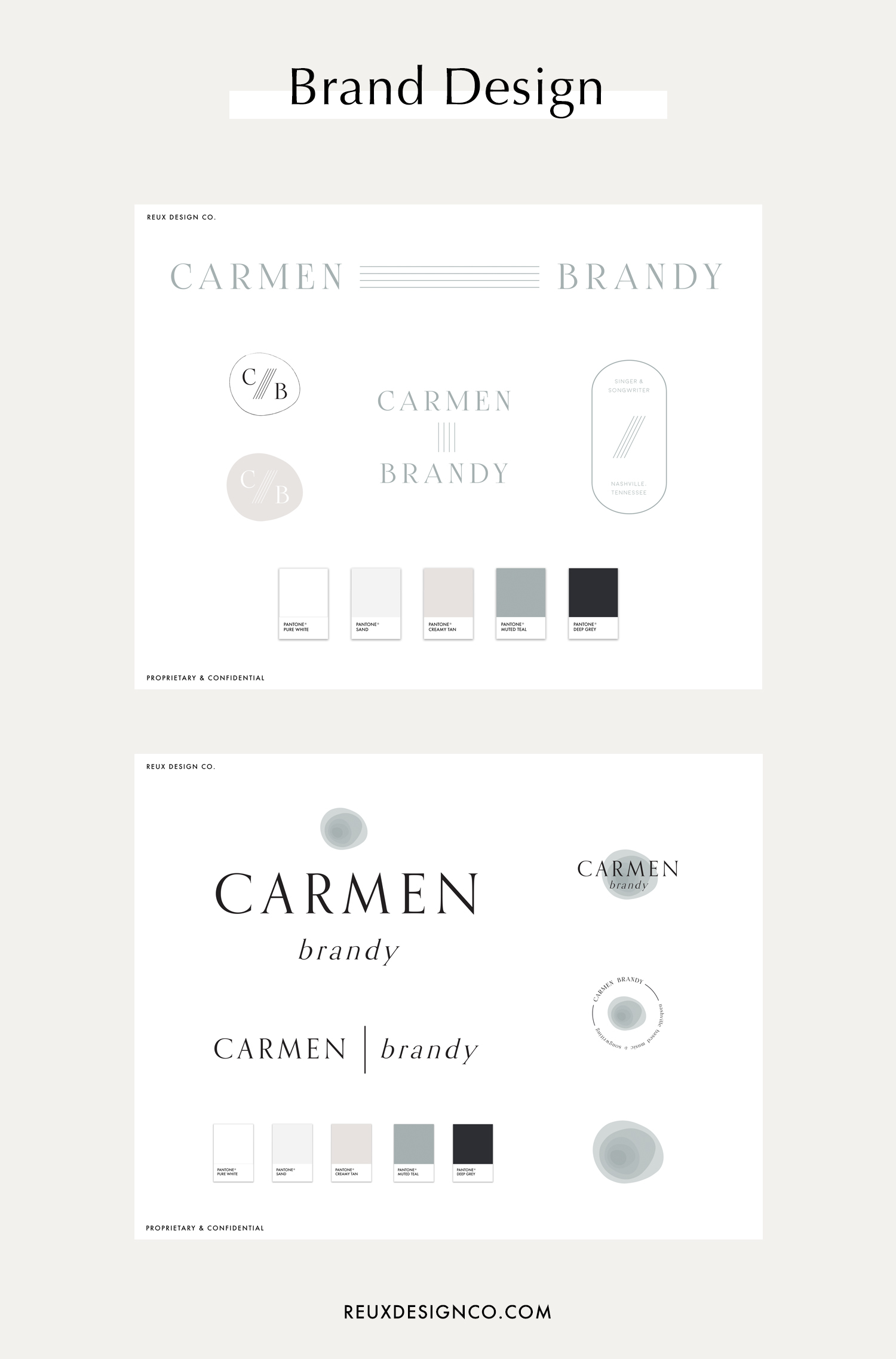 Branding Collateral:

Once the branding has been finalized, it's time to round out the collateral! My most popular branding package includes 4 collateral items, so I'll help the client decide which would be most beneficial for their individual company. Collateral can include business cards, stationery, newsletter design, templates, social media graphics, and more. This is what brings the brand to life and gives consistency across every touchpoint for their potential clients/customers.

Once everything is designed, I'll help in sourcing printers as needed, setting up Mailchimp, ordering business cards, etc. Then we're ready to launch!



Launch:

We choose a launch day that works for both of us to debut the new brand. I like having a blog post ready to go on my site to promote the new company. I'll also design a few graphics for social media promotion that both myself and the client can use. I also share a few exclusive resources to my clients to help them build hype and have a really successful launch to their business!

This is also the time when I'd send over all of the final files, along with a style guide. The style guide helps break down the whole brand in details (logo, marks, colors, fonts, etc.) so the client can easily handle their new branding. I want my clients to feel 100% at ease and confident in using their new branding, and keeping things consistent over time, which builds a strong, recognizable visual identity.


Ongoing Support:

Of course, post project, I'm always available for questions, concerns or future projects! Often, a few months down the line, my clients will want to work together again to design more collateral, packaging, email newsletters, etc. which I price out on a per project basis. I love this! Since we've worked together previously, the process is really smooth, and I know their brand intimately already.

So that's all! It's a quick, but packed, 3 week process that I've fine tuned over the years. Of course each project is slightly different but having such a structured outline based it so much smoother for myself, and for the clients! They know exactly what to expect each step of the way, which does a lot in building trust through the process.

I love working so closely with other entrepreneurs who are building sustainable, holistic, earth-friendly businesses. The friendships that grow are often a beautiful side effect of working so intimately on a project like brand design. It's a lot of work to build a purposeful brand design that will stand the test of time, but seeing my clients launch at the end of 3 weeks just makes my day.

So let me know: how does the process sound to you? Any questions about working with a designer?